Visiting Glen Moray
Tour Times: 9.30, 11.30, 13.30 and 15.30
Admission: £7pp
(includes optional complimentary tasting of two whiskies)
Under 18s Tour: Free
Tasting Flights of 3 or 4 whiskies starting from £5 per flight.
Available from the bar between 10:00 and 16:30, can also be booked in conjunction with a tour.
We recommend avoiding the last tour of the day if you wish to book additional tastings.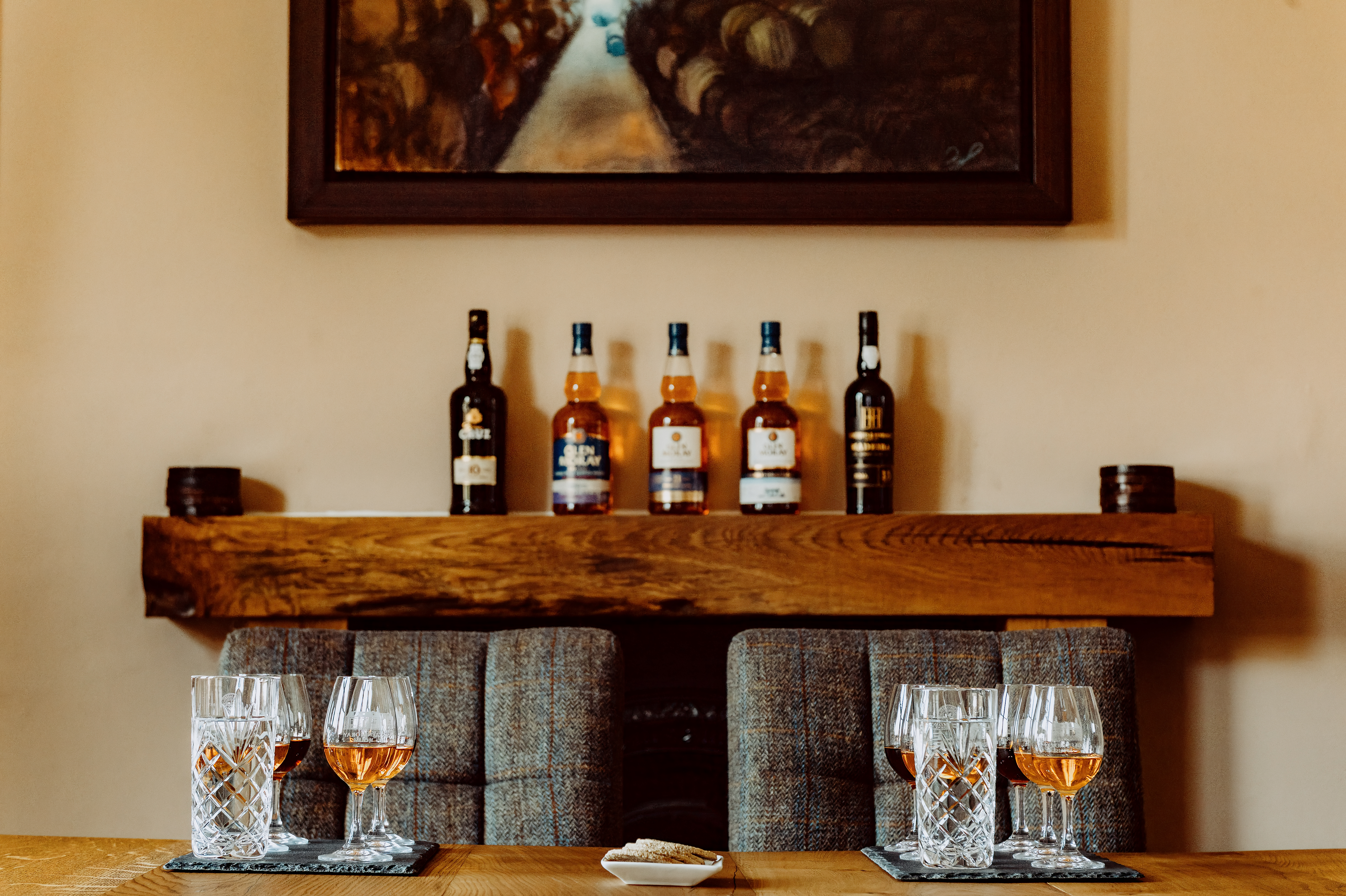 Specialist Tours
Specialist Tastings

Intermediate Tours

An in-depth tour followed by a tasting of 3 whiskies in our private tasting room in Glen Moray House.

£35pp

12:00 Monday and Friday, subject to availability

The Wine to Whisky Experience

A masterclass presentation tasting Porto Cruz port wine and Henriques & Henriques madeira wine followed by the Glen Moray whiskies matured in the same casks. Allow approx. 1.5 hours.

£50pp

11:00 Tuesday, Wednesday, Thursday, subject to availability

Chocolate and Whisky Experience 

A hosted tasting of 4 Glen Moray whiskies paired with fabulous handcrafted chocolates by COCO for a maximum of 10 people.

Includes a gift pack of COCO chocolates for each guest. Allow approx. 1 hour.

£50pp

15:00 Tuesday, Wednesday, Thursday, subject to availability

The Ambassadors Tour 

A tour with Iain Allan, Global Brand Ambassador. An in-depth tour of the site and warehouse followed by a tasting in Glen Moray House. Get to know Glen Moray, the distillery, the brand and the legacy of Iain's almost 20 years here.

£80pp

Available by appointment only

The Glen Moray House Experience

Immerse yourself in all things Glen Moray in our private tasting room. Learn about our history and our passion for great whiskies as you enjoy a tutored tasting of 6 specially selected drams and freshly prepared tasting platters. This is an intimate and informal session for those looking for a deep dive into Glen Moray. Allow approx. 2 hours. 

£80pp

Available by appointment only
Booking
Please contact us to book your space on a tour as spaces are limited. Call +44 1343 550900 or use the Contact Us form below. Large groups must be booked in advance, contact us for further information and availability.
Some comments from our travelers:
"Thankfully many distilleries now offer good tours, but Glen Moray sets the ultimate standard and shows just how these tours should be run. Callum, our guide, gave us a superb explanation of how Glen Moray's different malt expressions are made and matured."

"Congratulations to Hannah and the rest of the staff at Glen Moray. One of the best Scotch Malt Whisky distillery tours I have been on, and I have been on more than seventy so far. Hannah was most welcoming and informative with the tour."

"Visited with friends from London and enjoyed a most interesting and informative tour of the distillery and all the workings therein. We had a lovely and very knowledgeable guide who was able to answer all the questions thrown at her. And of course we all enjoyed the "tastings" at he end of the tour. The whole event is amazing value and be sure to stop at the coffee shop."