OUR RHUM AGRICOLE CASK FINISH PROJECT
Rich with spice and dark toffee, this small-batch limited edition brings a taste of the Caribbean to Speyside. Our craftsmen have always matured Glen Moray in many different casks, for a wide selection of tastes. Keen to explore further, they took whisky aged in American oak and filled it into Rhum Agricole casks from Martinique's St James distillery - the No. 1 Rhum Agricole in the world - where it would age another two years. While other rums are made with molasses, Rhum Agricole is made from fresh sugar cane juice for a deeper flavour. Uniting the sweet, spicy notes of its casks with our fruity Speyside style, results in a single malt of candied depth, spice and surprising intensity, which promises to intrigue...
Glen Moray distillers have been curious about flavour throughout their history. Surviving handwritten ledgers show that a wide variety of casks were used to mature new make spirit back in those early days, which was an usual practice for the time. A deep knowledge and expertise of wood has developed at Glen Moray. through generations of distillers, resulting in today's exceptional range of whiskies.
Nose
Marzipan, apricot jam, pear drops and pineapple.
Taste
Full-bodied and satisfying. Treacle toffee merges with kirsch cherries and spicy gingerbread.
Finish
Smooth and long. The spice intensifies then fades, leaving a rum and raisin finish.
CASK TYPE: Matured in hand selected Bourbon casks and finished in RhumAgricole (St James) casks.
46.3% ABV.
FORMAT: 70cl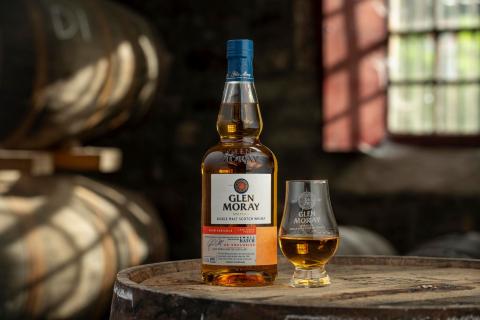 Discover the Curiosity collection
Indulge your curiosity with these bold and distinctive limited-edition malts, which reflect our innovations with casks.